In 2001, the Genuardi Family Foundation was established after the sale of the family's supermarket business, as a means of giving back to the communities in Southeastern Pennsylvania that supported Genuardi Family Markets.
Our nine Founding Board Members, all third generation Genuardi family members, continue the legacy of their parents and grandparents in their commitment to the ideals of selfless giving, passed through generations of a unique Italian-American family.
Fourth generation Genuardi family members continue the tradition through their leadership roles within the Foundation.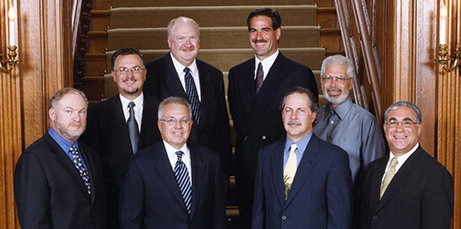 What We Do
The mission of the Genuardi Family Foundation is to support the development of healthy individuals, families, and communities by promoting self-sufficiency, hard work, and generosity with a commitment to caring for the most vulnerable in our communities.
The Foundation supports nonprofit providers of direct services whose work addresses food access and security, homelessness prevention and housing, and job training and placement, whose work aligns with our core values:
Family: We believe that successful families are the pillar of a strong society.
Community: We seek to encourage others to give of themselves for the benefit of their communities.
Hard Work: We believe that hard work plays a pivotal role in building self-worth and self-sufficiency, in strengthening individuals and families, and in fostering thriving communities.
Generosity: We carry on a cherished family legacy of giving to others.
Accessibility and Responsiveness: We strive to conduct our business with accessibility and responsiveness to our grantees, our partners, and the community.
Humility: We seek to honor the work and legacy of the Genuardi family by learning from the communities that we serve, by being thoughtful and strategic in all that we do, and by conducting ourselves with modesty and integrity.
The Foundation looks to partner with nonprofit organizations that join us in envisioning a future where all people have an equitable opportunity to thrive and contribute to the well-being of our region. We look to fund programs that improve access to basic services for the most vulnerable in our communities, as well as organizations that help create sustainable change that will break cycles of poverty, vulnerability, and need, while building toward a better future for all people.